Pheralyn Dove is a poet, visual artist, and author. Alongside her artistic pursuits, Pheralyn  completed 18 years of service as a grant writer for the School District of Philadelphia. She worked on teams that raised more than $175 million dollars in competitive funding from public and private sources including the United States Department of Education, United States Department of Health and Human Services, The William Penn Foundation, The Annenberg Foundation, and The John S. and James L. Knight Foundation, among others.  Pheralyn also spent 20 years as a cultural arts journalist for publications including The Philadelphia Tribune and The Philadelphia Inquirer, eight years running her own public relations firm, four years as a social worker, and 15 years as a volunteer writing instructor at Temple University's Pan African Studies Community Education Program (PASCEP).
Pheralyn Dove lives her life in a state of perpetual gratitude. She is passionate about creating art that promotes the ideals of Cultural Preservation, Global African Liberation and Emotional Healing. Although primarily known as a writer and performance poet, Pheralyn has emerged in recent years as a visual artist, working in mixed media, photography, and abstract expressionism. Pheralyn's work was included in "Generations 7 – Reflections on the Isms: Racism, Sexism, Ageism" curated by Dindga McCannon at Rush Arts Gallery Philadelphia.
The Leeway Foundation and the Philadelphia Jazz Project have recognized Pheralyn's artistic vision with grant awards. In March 2022 Pheralyn was awarded a grant from the Black Music City Foundation to write and produce a spoken word, music and multimedia project in honor of The Heath Brothers, Philadelphia's internationally renowned jazz musicians. This work premiered in Philadelphia on April 15, 2022, then on June 19, 2022, the work was recognized during Black Music City's Juneteenth celebration at World Café Live. With this opportunity as with all others, Pheralyn says, "All praises to the Creator. Thank you for choosing me as the vessel."
In October 2021, Pheralyn's one woman exhibit, "Out of the Midst," premiered at Trunc Artisans Gallery in Philadelphia. The artist reflects: "The artwork in 'Out of the Midst' represents a timeline of my journey. My forage into visual art. After many years of searching, trying to discover my way as a poet, I find myself cultivating a different side of me. Photography, collage, and abstract expressionism dominate in my visual work. Ancestors, Intense Color, Movement, and Nature are also recurring themes," says Pheralyn. "I am a Spiritual Dwelling. Listening to my Intuition. Obeying the Spirit. This is my life as an ever-emerging artist."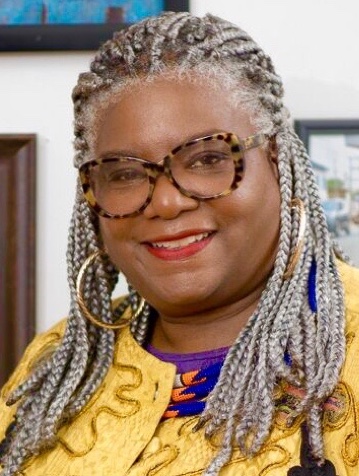 "Lady Dove" aka Pheralyn Dove, is a cultural warrior.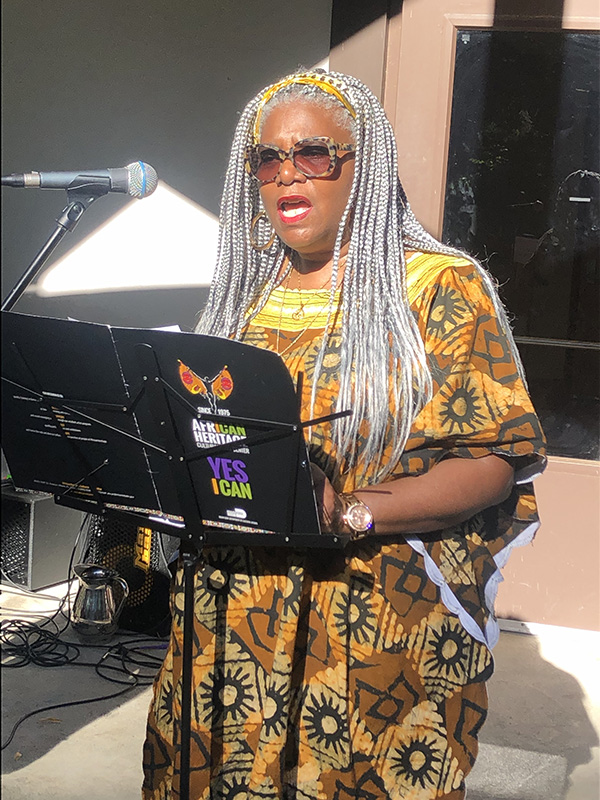 Pheralyn's writing has taken her to Bahia, Brazil to research African retentions, to Washington, DC to interview Coretta Scott King, and to Paris to write about the centennial of author Richard Wright's birth. As a spoken word artist, Pheralyn has performed at Jazz a la Villette (also in Paris). She has performed at the Vision Festival in New York City, as well as World Café Live and the Kimmel Center's Verizon Hall, both in her beloved Philadelphia. A graduate of Hampton University, she is the author of "Color in Motion," a book of poetry that features a foreword by the late legendary drummer Max Roach. The poems in "Color in Motion" form the nexus of "Little Girl Blue," a multimedia one-woman show in which Pheralyn portrays 17 characters who tell the story of a Black woman's journey from victim to victor. Pheralyn is the featured poet on Khan Jamal's "Return from Exile" and Tyrone Brown's, "Moon of the Falling Leaves" CDs. Pheralyn was honored to perform her original poetry in Accra when she made her pilgrimage to Ghana, West Africa in February 2019, for "The Year of The Return.
"Speak to Me Spirit," a 24 X 36 canvas featuring Pheralyn's nature photography embedded with poetry, was chosen for "The Holy City: Art of Love, Unity and Resurrection." Curated by Cookie Washington, the exhibit was mounted in Charleston, South Carolina in commemoration of the massacre at Mother Emanuel AME Church. A series of five photographs with embedded poetry were selected for Betty Leacraft's "Dream Space" installation at The Colored Girls Museum in Philadelphia. In October 2019 Pheralyn mounted "Paradoxes," a one-woman exhibit at 1517 Studio C Gallery in Philadelphia. "The exhibit allowed me to express overlapping feelings while examining the paradoxes of my life through photography, mixed media, poetry and prose."